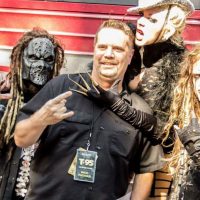 Rick
Monday -- 03:00 PM - 06:59 PM
Tuesday -- 03:00 PM - 06:59 PM
Wednesday -- 03:00 PM - 06:59 PM
Thursday -- 03:00 PM - 06:59 PM
Friday -- 03:00 PM - 06:59 PM
Saturday -- 02:00 PM - 05:59 PM
I am beyond thankful to be able to do what I do for a living…When I was a kid growing up in Great Bend KS I would walk around recording myself introducing songs and doing weather forecasts…I would play the audio back to anyone who would listen…drove people nuts with it! I landed my first radio gig when I was 15 years old doing live PSA's at the bottom of every hour.
I soon started working overnight shifts on the local top forty station…I missed countless events while in high school because I was so tied up every weekend and when I look back I can honestly say I would not change one thing.
I came to Wichita after working the Kansas City market and have been here now for 18 years. I love this city and the people in it! When I am not at work (which is not overly often lol) I like to take in a good baseball game from the third base line….go to the gym…spend time with friends and family…and binge watch Tarantino movies.