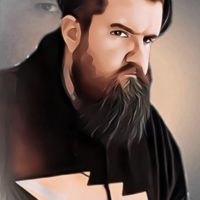 Meatball
Sunday -- 10:00 AM - 04:00 PM
Monday -- 03:00 PM - 07:00 PM
Tuesday -- 03:00 PM - 07:00 PM
Wednesday -- 03:00 PM - 07:00 PM
Thursday -- 03:00 PM - 07:00 PM
Friday -- 03:00 PM - 07:00 PM
Saturday -- 10:00 AM - 04:00 PM
The name is Meatball!
I was conceived by two colliding forces – Rock and Metal – and forged in the fires of the most desolate, backwards civilization on this planet…. Oklahoma. Thankfully, I returned to the promised land, southern Kansas, and now bring rock and metal to the masses, my subjects… my brothers and sisters in rock!
Seriously though, I grew up listening to T95, and it's where I learned to love Rock music. It only seems fitting I return and give back to the station that inspired me to pursue this career.
I'm easily distracted by bright lights, loud sounds and crowds of people, so it's no surprise if there's a live show in town… I'm there.
About once a week, I scan through Netflix for something new, but ultimately land on the same three shows: Walking Dead. The Office, and Sons of Anarchy.
I've been gone for 15 years, but now I'm back, so it's time to re-discover Wichita! Find me a good hole in the wall, buy me a beer, and let's rock!