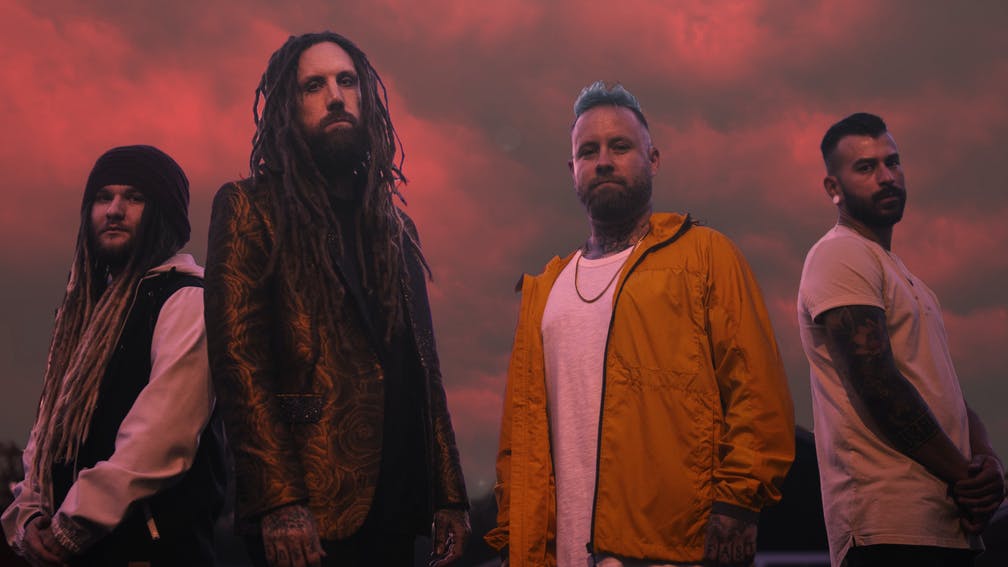 Well, Friday the 13th got a little out of hand with the new music dropping. In addition to AC\DC's latest album "Power Up," we also got a deluge of new music from many well-known bands, some recently active side-projects, and a couple new faces who have ties to big names.
So let's break down what's new on Friday the 13th…
---
PAPA ROACH:
This is "The Ending" off of the band's latest album "Who do you Trust?" which came out a couple years ago. The timing, though, coincides with Jacoby Shaddix' film and acting debut with a film called "The Retaliators." The video is directly related to the film, and will likely appear on the soundtrack.
Papa Roach also announced a Greatest Hits Vol. 2 album "The Better Noise Years" that's due out in March.
---
POP EVIL:
The group announced Friday, they'll be releasing their sixth studio album, "Versatile" sometime in 2021, and did so with their new song "Breathe Again."
---
HOLLYWOOD UNDEAD:
The release of their next record "New Empire: Vol. 2" got delayed, but Hollywood Undead are still pushing ahead, releasing another single from the record, "Gonna Be OK."
Johnny 3 Tears shares with Loudwire, "'Gonna Be Ok' is about that precarious place we sometimes find ourselves, the brink between salvation and sanity and our desperate plea to ourselves that everything will be alright."
---
THE PRETTY RECKLESS:
Taylor Momsen announced earlier in the week, their next album, "Death by Rock and Roll," would come out February 12, 2021, and have given us a little someething extra to tide us over until then, a new track called "25."
---
DEFTONES:
This one's not DIRECTLY Deftones, but part of the "Dark Stallion" remix companion album coming out soon with the band's 20th anniversary edition of "White Pony."
This version of "Passengers," was remixed by Mike Shinoda of Linkin Park. (The track still features vocals from Maynard James Keenan of Tool.)
---
MORGAN ROSE (Sevendust):
Last month, we found out Morgan Rose (Drummer for Sevendust) was releasing a solo effort soon, and Friday, we got our first taste of the record with his debut single, "The Answer."
His EP, "Controlled Chaos," will come out November 27th, so you've got something to motivate you in the gym and work off that Thanksgiving Dinner.
---
LOVE AND DEATH (Members of Korn and Breaking Benjamin):
Eight years ago, Brian "Head" Welch of Korn (then split with the band), and Breaking Benjamin guitarist Jasen Rauch, put together a project called "Love and Death" to some moderate success. Now, the band is back together, and announced their second album "Perfectly Preserved."
With that, they released the first single "Down," and have a live stream event in January.
---
DEAD SARA:
Three years of silence, and Dead Sara are back in a LOUD way, with their song "Hands Up." The track is expected to be on a full album release TBD in 2021.
---
BLACK VEIL BRIDES:
This track TECHNICALLY came out on Thursday, but the fact still remains, we got new music from them. "Velvet Cross" will be on their 2021 concept album "The Phantom Tomorrow."
---
SUSPECT208 (Sons of members from Metallica, Guns N'Roses, and Stone Temple Pilots):
WHO THE HELL is SUSPECT208? Well, it's the offspring of Robert Trujillo (Metallica), Slash (GNR), and Scott Weiland (STP).
Now grown-ass men (which makes us all feel old), the "kids" put together a solid effort that has a little bit of influence from ALL of their dads, ESPECIALLY Noah Weiland's voice.