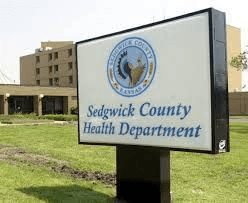 Sedgwick County's Health Department is changing how people make appointment for their drive-through site in east Wichita.
Instead of calling the United Way's 211 number, appointments will now be made by calling 316-660-1022. This number can also be used to ask general questions related to COVID-19. Using this new number, you may end up having to leave a message. Your call should be returned within two business days. This call center will be staffed from 8 a.m. to 8 p.m. Monday through Friday and between 8 a.m. to 5 p.m. on Saturdays and Sundays.
Testing is done at the old National Guard building at 620 N. Edgemoor. The drive-through testing site will run on the following schedule:
9 a.m. to noon and 2 to 5 p.m. on Monday, Wednesday, and Friday
9 a.m. to noon and 2 to 7 p.m. on Tuesday and Thursday
Testing is now being offered to people without symptoms of the virus, though priority will still be given to people who are sick. Healthcare workers, first responders, teachers, public employees, and law enforcement will be given priority when scheduling asymptomatic tests.
If you get a test through the county, results should be back within six days.