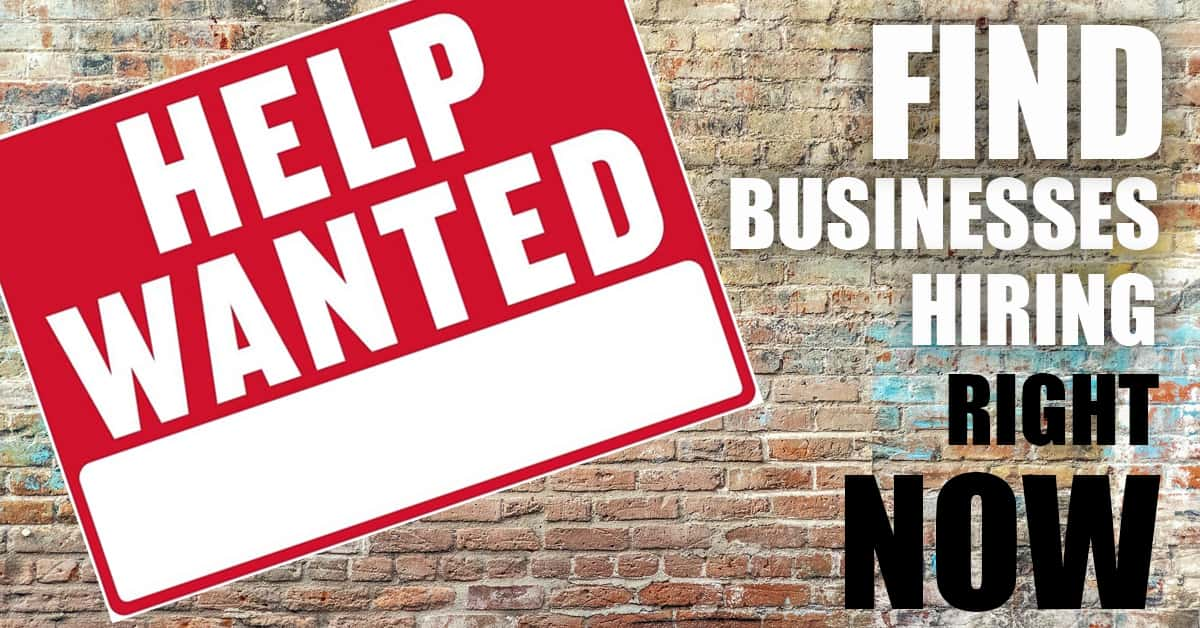 ————————-
Kansas Works Statewide Job Fair – The fifth annual KansasWorks statewide job fair is going virtual, and employers from across the state will be hiring. The job fair will take place from 8 a.m. Wednesday, May 27, to Thursday, May 28, 5 p.m. If you would like to chat live with any of the employer participants, you can do so Wednesday, May 27, from 10 a.m.–2 p.m.
PRE-REGISTER HERE
————————–
BUSINESSES HIRING:
Allen's Furniture & Upholstery – experienced cutter, sewer, and upholster. We would like someone that can do all 3. But if you can do any of the. Please stop by and show us what you can do. Pay is based on what you can do. We are up and working our regular hours. This will be a full time position for as long as you are willing to work.
APAC Shears – hiring for mutiple positions. From the supply of aggregate materials, hot mix asphalt, and concrete to the construction of roads and bridges, we do it all. We offer a wide variety of services, products and materials to serve your building needs. Our customers include contractors, businesses, municipalities, government agencies, and homeowners across Kansas.
At Home Store: hiring 4-6 part-time customer service / cashier positions immediately
BrightStar Care of Wichita – hiring qualified & dependable CNA's
City of Wichita -Multiple positions: bus operator, fire recruit, police recruit, van driver, youth program worker
Clarks Uniforms Co. Inc. – Sales Associate for medical uniforms
Container Services Inc – Three different shifts. Midnight-8am / 8am-4pm / 4pm-Midnight. Part Time and Full Time. Wages range from 12.30-12.90 starting pay.
Cutting Edge Concrete  – We are looking for full time people who have experience in pouring, forming, laying and finishing concrete. Pay depends on lever of expertise. We are also looking for general workers, concrete cutters, flat sawing and construction experience.
EquipmentShare Wichita – Eight openings in Wichita right now.  CDL Drivers, General Manager, Sales Representatives and more.
Fuzzy's Taco Shop – Now hiring for Front of House Team Members to create the "Friendliest Place in Town" environment for guests and the team. Positions available for cashier, expo, and floor. Must be at least 18 to apply. Bar positions also available for individuals
HealthBack Home Health – We are looking for an RN for our full time, day shift position. We are also offering a $5000 sign on bonus.
Holland Pathways Behavioral Healthcare Services, LLC – Hiring Nursing Positions: LPN or RN
Full-time 2nd shift and Part-Time 2nd shift weekends
Honey Do Homes – We are currently looking to hire an experienced painter and carpenter. Full time position Monday – Friday.
One Stop Pet Grooming – One Stop Pet Grooming is wanting to hire an experienced (shop experience only) dog groomer. For more information please follow the link or apply in person
Providence Home Health and Hospice –  seeking to hire an experienced Registered Nurse (RN) that is licensed in Kansas to work in the specialty area of Home Health and/or Hospice.
ServiceMaster Quality Cleaning – looking for a janitor commercial cleaner/part-time mornings
Spangles – Spangles is hiring 21 years and up at many of our locations. $10/hour. Open interviews Monday – Friday 1-2pm. See store for details!
The Grounds Guys of East Wichita – landscape & irrigation system installer
Treescapes, Inc. – Looking for Sprinkler Technicians and Accounts Receivables/Collections personnel with great communication skills. Apply in person at 1202 N Andover Rd. Andover, KS 67002
UniFirst – multiple Wichita positions available: production employee, maintenance custodial technician, and maintenance technician.
U.S. Army – Hiring full-time and part-time with over 150 careers available. Free healthcare, dental, food, housing, utilities, education and many more benefits.
Local contact: brandon.d.bartel.mil@mil.mil
U.S. Navy – Hiring qualified men and women at a starting base salary of 1600 a month in career fields such as aviation engineering medical and construction. Leadership training college opportunity with travel benefits. Local contact: matthew.w.taylor2@navy.mil
Wichita Hall's Culligan – Experienced Customer Service Representative – able to multi-task and an individual that likes a fast paced work environment. Monday – Friday 8am to 5pm.