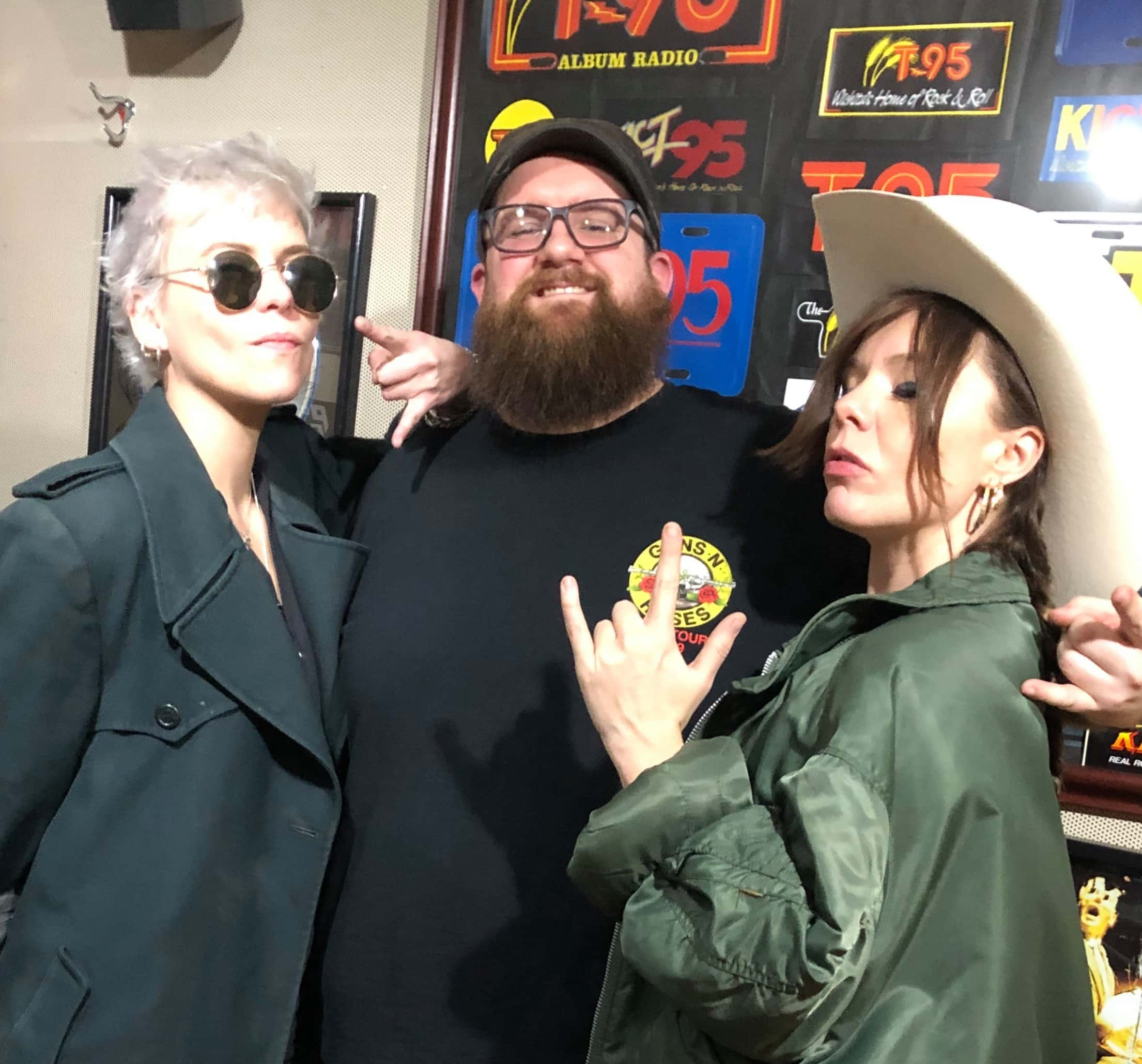 A day after their show at Intrust Bank Arena, Bones UK stopped by the T95 studios for an interview, and exclusive performances, live from across the board.
Bones UK is partially from across the pond in singer Rosie Bones, and guitar player Carmen Vandenburg. Three years ago, they added drummer "Heavy" to the mix, and began working on an album that has shot them to the front of stadium tours in a very short amount of time.
Rosie actually started the band's process 6 years ago when she "bumped into" Carmen in a blues club. "She was playing with a bunch of old men…"
First live track in the studio, "Creature," off their first album, which is about being who you are. (I could listen to Carmen play guitar all f****n DAY!)
A lot of production goes into Bones UK's music, but they're no strangers to stripping down their music for studio performances like these. Meatball points out, it showcases the musicianship everyone in the group has. As far as the electronic elements they use in their live shows, Rosie says they like to use the industrial sounds, and are trying to "future Up" the sound of Rock and Roll.
"We don't ever want people to be like, 'Oh, Bones, they sound like…..' If we make something that sounds like something someone else has done, then what the hell are we doing?"
Also…. what was it like to get the call when "Pretty Waste" was nominated for a Grammy?
Second live track from the T95 studio, the band's Grammy-nominated song "Pretty Waste."
Ladies and Gentlemen… Heavy banged on the cahone so hard, he activated Siri. LOL
Only three years in, Bones UK is opening stadium shows, so at the current pace, they're due to headline any day.  WHO would they put on their lineup?
"What the hell is going on?" Performing with Queens of the Stone Age when Johnny Depp was with them.
Third live track from T95 studios, "Beautiful is Boring." (SERIOUSLY, I could sit and listen to this all day.)
And finally…. ladies and gentlemen…. from the back of the studio, Heavy, and what it's like working in Bones UK.
Huge thank you to Bones UK for stopping by the studio to chat with me. Self-titled debut album is out now.