What was happening when T95 turned 35?
POP CULTURE:
Kim and Kanye got married…. so there's that.
The "Ice Bucket Challenge" spurs a trend of viral videos all over social media, raising awareness and funds for the ALS Association. While it seemed silly at the time, those videos, and that awareness raised MILLIONS of dollars, which allowed hundreds of grants to be awarded toward research. Scientists are now crediting the Ice Bucket Challenge for a sudden spike in progress toward understanding, and fighting ALS.
Pharrell wore this…. Arby's hat?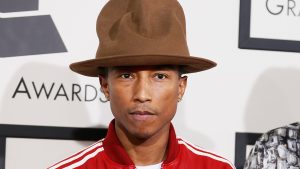 The Philae, a robotic lander, was launched from the Rosetta spacecraft after a 10-year journey and successfully latched onto the hurling rock, later named Agilkia. Though Philae ran out of battery more quickly than expected since it inadvertently landed in a shady spot on the comet that prevented some recharging via solar panels, it was still able to transmit data back to scientists on the ground that was previously out of reach.
Psy's "Gangnam Style" becomes the first video to reach 2 billion views on YouTube
World's 1st penis transplant procedure by a team from Stellenbosch University and Tygerberg Hospital in Cape Town, South Africa
SPORTS:
The 2014 Winter Olympics opened in Sochi, Russia, which turned out to be a crazy domino effect of problems and controversies. Seems only fitting that, during opening ceremonies, the final ring failed to open, resulting in an incomplete Olympic Ring structure that seemed to have an asterisk by it.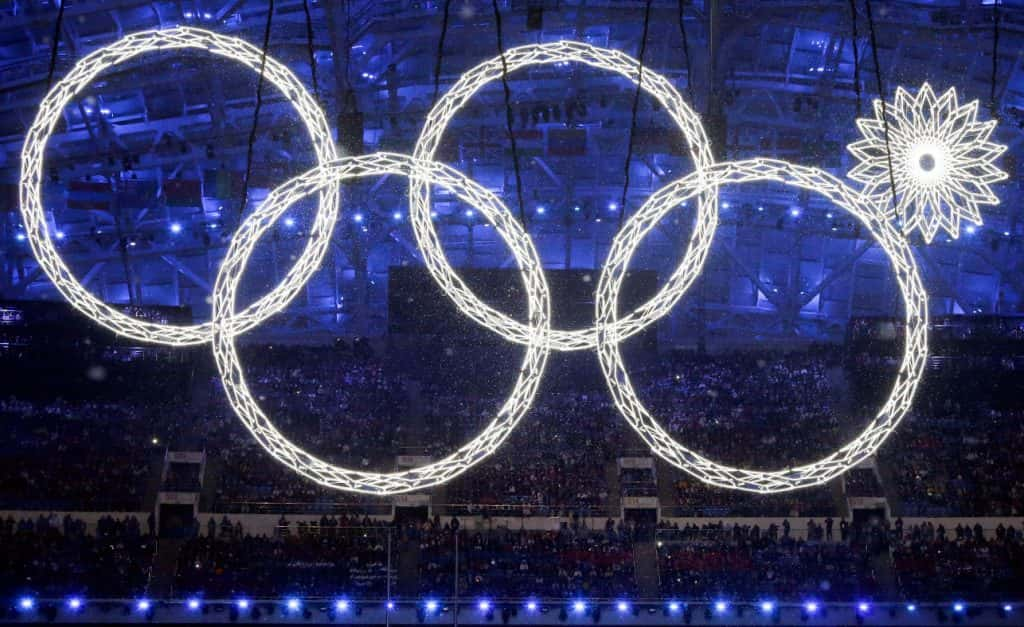 Concerns were shown over Russia's policies surrounding the LGBT community, including the government's denial of a proposed Pride House for the Games on moral grounds, and a federal law passed in June 2013 which criminalized the distribution of "propaganda of non-traditional sexual relationships" among minors.
Severe cost overruns made the 2014 Winter Olympics the most expensive Olympics in history; with Russian politician Boris Nemtsov citing allegations of corruption among government officials, and Allison Stewart of the Saïd Business School at Oxford citing tight relationships between the government and construction firms.
Some Circassian organizations objected to the Games being held on land their ancestors held until 1864, when most of them were vanquished at the end of the Russian-Circassian War (1763–1864), in what they consider to be ethnic cleansing or genocide.
U.S. broadcaster NBC largely avoided broadcasting material critical of Russia, although several segments deemed "overly friendly to Russia" were criticized by some commentators. However, following the closing ceremony, commentators evaluated the Games to have been successful overall.
Following the Games, reports began to emerge that the Russian Olympic team had participated in a state-run doping program, which supplied their athletes with performance-enhancing drugs. On 5 December 2017, the IOC voted to suspend the Russian Olympic Committee, thus banning it from sending athletes under the Russian flag to the 2018 Winter Olympics. Cleared Russian athletes were allowed to participate as "Olympic Athletes from Russia"(OAR). Two of them, curler Alexander Krushelnitskiy, who won a bronze medal, and bobsledder Nadezhda Sergeeva, failed drug tests during the Games.
French sports newspaper L'Équipe, quoting an anonymous Russian coach, alleged that Russia and the United States would swap votes, with the United States voting for Russian athletes in pairs figure skating and team events and Russia voting for the Americans in ice dancing. The allegations were categorically denied by U.S. Figure Skating.
In the week prior to the start of the Games, reports began coming out of Sochi that a number of the accommodations for visitors and journalists were still incomplete. Several hotels meant to house visitors to the Games were reported to be still under construction upon arrival, as well as missing basic furniture from some of the rooms that had finished construction. The issues forced a number of visitors to seek alternate accommodations. Other problems reported included "piles of garbage" on the streets of the media village, as well as significant construction noise.

Johnny Quinn, member of the US bobsled team, became trapped in his bathroom and had to bash a hole in the door to get out
…With no phone to call for help, I used my bobsled push training to break out. #SochiJailBreak pic.twitter.com/apZRefgvCO

— Johnny Quinn, OLY (@JohnnyQuinnUSA) February 8, 2014
Stacy St. Clair, Chicago Tribune reporter, reported that her hotel had no water, and that staff informed her that when it returned, not to wash her face in it as it was dangerous. The water service that returned provided murky dark water. The "dangerous face water" incident went viral.
My hotel has no water. If restored, the front desk says, "do not use on your face because it contains something very dangerous." #Sochi2014

— Stacy St. Clair (@StacyStClair) February 4, 2014
After the public release of an audio recording between Clippers owner Donald Sterling expressing racist views to his girlfriend, V. Stiviano, NBA commissioner Adam Silver moved swiftly on a league ruling. After an investigation, Silver and the NBA banned Sterling from the league for life, also fining him $2.5 million with a plan to have owners vote to remove him from ownership of the team.
UCONN swept the College Basketball Title talk, beating Kentucky in the men's tournament April 7th, then the women finished an undefeated season, knocking off Notre Dam for their ninth team title on April 8th.
On March 26, a group of Northwestern University football players led by quarterback Kain Colter won a landmark case before the National Labor Relations Board and were ruled to be employees and allowed to form a union. Student-athletes at private universities were granted collective bargaining rights, rocking the model of collegiate athletics and awarding more power to the players than ever before. Northwestern would appeal the ruling shortly afterward.
Prior to the 2013 college football season, Michael Sam — a Missouri Tigers defensive lineman — told his teammates he was gay. In early February, Sam told the rest of the world, only three months prior to the NFL Draft. Sam, the SEC's defensive player of the year in 2013, became the first openly gay player to be drafted into the NFL. A year later, he retired from football after playing half a season with the Montreal, Alouettes.
Armed with the NFL's No. 1 defense and a second-year quarterback well beyond his years, the Seattle Seahawks crushed the Denver Broncos 43-8 in one of the most lopsided Super Bowls in years.
An arbitrator reduced A-Rod's suspension from 211 games to 162 games, but the final count is still the longest PED-related suspension in MLB history. The third baseman will sit out the entire 2014 season, meaning the Yankees will not pay him any of his $25 million salary due this year.
Led by Heisman Trophy winner Jameis Winston, Florida State defeated Auburn 34-31 to claim the national title. In the final game of the BCS era, the Seminoles faced a 21-3 deficit during the second quarter but responded with 17 unanswered points, paving the way for a memorable fourth quarter that included three lead changes in the final five minutes.
Both the San Francisco Giants, and Kansas City Royals fought out of the Wild Card Round in the MLB to meet in the World Series. The Giants would get the edge, though, winning 3-2 in Game 7 in Kansas City.
In the NBA, the San Antonio Spurs beat the Heat 4 game to 1 to claim the Title. Kahwi Lenoard would be named MVP for the Spurs… which he might do again this year with the Raptors.
The L.A. Kings beat the New York Rangers in the NHL, 4 games to 1, to claim the 2014 Stanley Cup.
Adam Silver is elected the 5th commissioner of the NBA
Indiana Pacers (Now OKC Thunder) NBA super-star Paul George suffers a gruesome compound fracture of his lower right leg in a Team USA scrimmage
Oscar Pistorius is sentenced to five years in prison for killing his girlfriend Reeva Steenkamp
MUSIC NEWS/ENTERTAINMENT:
The "Oscars Selfie" taken by Ellen Degeneres. At the time, probably the most star-studded selfie ever taken… too bad Kevin Spacey ruins it now.
If only Bradley's arm was longer. Best photo ever. #oscars pic.twitter.com/C9U5NOtGap

— Ellen DeGeneres (@TheEllenShow) March 3, 2014
And speaking of the Oscars… how about John Travolta and his new alias for Idina Menzel
The death of Philip Seymour Hoffman from a drug overdose at just 46 years old shocked the world and was made all the more tragic by the great work he did in the espionage thriller "A Most Wanted Man" — one of his final films.
U2 SEVERELY overestimated how much people wanted their music, and "gave" all subscribers to Apple Music a digital copy of their "Songs of Innocence" album. Ironically, the feet wasn't so innocent, and overwhelmingly, Apple users got upset. HOW DARE U2 give us free music!… Honestly though.. it's not like you HAVE to listen to it… it's free music! Chill out. Bet if Beyonce did that you wouldn't have seen such an outcry!
Bill Cosby taints our love of Jell-O and pudding forever, after being accused by multiple women of sexual abuse and harassment. Cosby was found guilty on three counts of aggravated indecent assault in 2018, and sentenced to 3-10 years in State Prison.
The first trailer drops for "Star Wars: Episode VII" just before Thanksgiving
A hack into Sony headquarters looked like a harmless info dump, exposing high-level executives in their questionable goings-on, but then turned scary when the group claiming responsibility threatened the studio if they released the movie "The Interview" – a comedic movie with Seth Rogan and James Franco about an assassination plot against Kim Jong Un. The movie wasn't released in a wide capacity. Instead, it was quietly premiered on Netflix.
This was a tough year for comedy as the unexpected deaths of both Robin Williams and Joan Rivers left fans in tears. Robin Williams, 63, committed suicide in his California home on August 11 and his wife later revealed that while the actor, who had previously battled substance abuse, was sober at the time of his death, he was struggling with the early stages of Parkinson's disease. Less than three weeks later, complications from a throat surgery left the 81-year-old Joan Rivers in a medically induced coma and life support, later dying from brain damage due to a lack of oxygen. Investigators found that the clinic performing the surgery made a number of mistakes that contributed to her death.
Actress Ellen Page comes out as gay in a speech at the Human Rights Campaign's "Time to Thrive" conference
BOX OFFICE:
Guardians of the Galaxy (Best Soundtrack for a movie… ever.)
The Wolf of Wall Street
Gone Girl
The Theory of Everything
12 Years a Slave
Dawn of the Planet of the Apes
X-Men: Days of Future Past
Dallas Buyers Club
Transformers: Age of Extinction (Dino-Bots and mark Wahlburg)
The Hobbit: Battle of the Five Armies (The final movie in a three-part Hobbit series from Peter Jackson)
Maleficent
The Hunger Games: Mocking Jay-Part 1
Captain America: The Winter Soldier
The Amazing Spider-Man 2
Interstellar
TELEVISION: 
We finally found out HOW Ted met the kids mother in the series finale to "How I met your Mother." Overall… it wasn't met with great acclaim from fans. But Meatball loved it.
Jimmy Fallon takes over "Late Nite" from jay Leno. This would be the SECOND time Leno gave up his show to someone else… the first time didn't go so well with Conan O'Brien
On the heels of Leno stepping down on NBC, David Letterman also announced his impending retirement form Late Night Television. He would name his successor – Stephen Colbert – by the end of the year.
And as the old saying goes, "When it rains, it pours." Craig Ferguson also announced later in the year that he, too, would be leaving the "Late Late Show" on CBS. His successor, James Corden, was announced later that year as well.
True Detective premieres on HBO. The first season was a hit. The second season…. not so much.
Last Week Tonight with John Oliver premieres on HBO
The fourth-season premiere of Downton Abbey makes history for PBS, with more than 10.2 million viewers tuning in, making it the highest rated program in the network's 44-year history.
During a live remote from the College of Charleston, a man lunges at The Weather Channel meteorologist Jim Cantore, who fends off the attacker with a knee to the groin and finishes his report
The Ultimate Warrior makes what turns out to be his final public appearance (one day before his death from a heart attack at the age of 54) on WWE Raw. In his first appearance on the USA Network show since his final WWE TV match in 1996, Warrior gives a speech to the fans and wrestlers past and present as his Ultimate Warrior character
Actor/comedian Tracy Morgan (formerly of Saturday Night Live and 30 Rock) is critically injured and hospitalized in an intensive care unit after a six-car crash on the New Jersey Turnpike that injured three other people and killed comedian James McNair. Kevin Roper, the sleep deprived driver of the 18-wheel truck who caused the crash was charged with one count of death by auto and four counts of assault by auto. Morgan later sued the trucker's employer Walmart, claiming they "knew, or should have known" he was sleep deprived.
Starting at 10

 

am (ET) with the inaugural episode, FXX begins airing in chronological order every episode of The Simpsons from its first 25 seasons (552 in all) plus the 2007 motion picture The Simpsons Movie in what is a record-breaking marathon, running through 11:59

 

pm ET on September 1. The marathon marks FX Networks' November 2013 acquisition of cable syndication and on-demand rights to all Simpsons episodes (an estimated $750 million deal). The show became a regular part of FXX's lineup after the marathon concluded
While taping a segment, Bryce Dion, a sound technician for Cops is accidentally killed by a police officer during a shootout at a Wendy's restaurant in Omaha, Nebraska, involving a robbery suspect (who was also killed). In his honor, the show aired an hour-long "best of" episode featuring Dion's work on its September 20 episode.
While presenting a report on a ballot measure campaign to legalize the recreational use of cannabis in Alaska, KTVA/Anchorage reporter Charlo Green reveals that she is owner of a medicinal cannabis club promoting the issue, and announces on-air that she is quitting her job at KTVA to devote her energies to the campaign (using an F-bomb in the process)
https://youtu.be/wBPsbgKeIFM
The Griffin family travels to Springfield and meets the titular family of The Simpsons on Family Guy's 13th-season premiere.
NBC personality Al Roker sets a Guinness-verified world record for the longest continuous live weather broadcast. His 34-hour marathon, which aired mainly online and concluded on Today on the 14th, surpasses by one hour the mark Norwegian weathercaster Eli Kari Gjengedal set in September
Discovery Channel airs the two-hour special Eaten Alive, in which wildlife expert Paul Rosalie voluntarily dons a special suit in order to be swallowed whole by an anaconda. Despite the title, Rosalie is not eaten alive, as he asks his team to abort the stunt after the snake begins to crush Rosalie's arm and its mouth only reaches his head.
HISTORICAL EVENTS:
The deadliest outbreak of Ebola, a deadly hemorrhagic fever, started in West Africa in the spring of 2014 and began to spread rapidly in late summer. Most of the epidemic was contained in three countries — Guinea, Sierra Leone and Liberia — though there have been cases in confirmed in at least five other countries, including two diagnosed in the United States.
The prospect of a 747 plane filled with passengers disappearing from the sky seemed like a fictitious plotline from a television show until March 8 when a Malaysian Airlines flight from Kuala Lumpur destined for Beijing vanished. No crash site, debris or sign of any of the 239 missing people on board have ever been found and the search continues to this day.
Border confrontations between Russia and Ukraine felt at times like flashbacks to the Cold War. After protests against Ukrainian President Viktor Yanukovych led to him fleeing the country, Russian-backed fighters moved into the seaside city of Crimea in the ensuing power vacuum. Russian President Vladmir Putin maintained that the dispute was a matter of Russian nationalists in Ukraine wanting to rejoin their homeland, but the international community — and the U.S. — saw it as a dangerous land grab and imposed economic sanctions as a result.
A terror group that most Americans had never heard of prior to this year, known as the Islamic State of Iraq and Syria (ISIS), took brutality to a new level with graphic beheadings and the brutal takeover of entire towns in Syria and Iraq. ISIS traces its roots back to an Iraq-based faction of al Qaeda but, in a telling sign, ended up separating from the group as al Qaeda began distancing themselves for fear that ISIS was too extreme.
Violent riots broke out in the St. Louis suburb of Ferguson this August after an unarmed teen named Michael Brown was fatally shot by a police officer. Witnesses allegedly stated that Brown had his hands up at the time of the shooting — which was later disputed by police officer Darren Wilson — added to the fury. A grand jury decided not to indict Wilson on criminal charges.
President Obama approves US military training of 'moderate' Syrian rebels to fight the regime of Bashar al-Assad and al Qaeda-linked groups
New York's 104-story One World Trade Center officially opens 13 years after the September 11 attacks