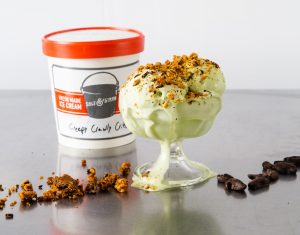 Listen, Halloween ice cream when we were kids was just vanilla with candy in it. Maybe some candy corn or something… but this is too much.
Salt & Straw, an ice cream joint on the west coast, is putting actual blood and actual insects in their Halloween specialties.
Not kidding.
One is called "Dracula's Blood Pudding," which has actual Pig's blood in it, and apparently is similar to an Italian desert called "Sanguinaccia dolce." Honestly, it's just a fancy way to say, "There's blood in your ice cream."
The other, called "Creepy Crawly Critters" is green tea ice cream with chocolate covered crickets and mealworms in it. *shivers*
If you wanna brave it, you can order it on their website.. but seriously… gross man.